I waited A LONG TIME to be a mom.  I get a number of requests to help in their school and activities.  From fundraisers to class parties to music concerts to mystery readers, there are so many opportunities to say "yes" or to eventually burn out with all the help you give.  It's important to recognize your personal strengths, interests and where you can make an impact.  I have put this into action recently and I feel real good about how this worked out.
In 2019, there was a request by the music teacher for an upcoming 2nd Grade musical "A Bug's Christmas."  The request was primarily for bug themed costumes since every child would need one.  Another request was to help with the set.  With my past career in broadcast production and my current in art therapy, I figured my talents would be best matched for the set/stage help.
I kindly wrote a note stating my skills lacked in the costume category and that I'd be happy to help with the stage.  Little did I know, I was the ONLY parent that offered at that time to help with the stage background.  When the music teacher and I were setting my first time to come help, I learned my fate of a one person production crew… and I was up for the challenge.
I was presented with some boxes of lights, some ivy, and directions to use clothes pins on the curtain.  Alright… I got this.  I did a quick run to the local dollar type store and picked up some garland and more clothes pins.  I quickly got to work… That was a Friday.
At the end of the school day Friday, I had completed two ivy trees made from hand, twinkle lights were hung and some tinsel was up.  I had some help from my son's teacher's aide for about an hour.  I was thankful for the help.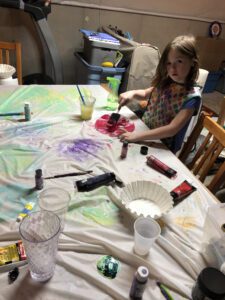 I had some excellent ideas for painting over the weekend.  I asked my daughter for her artistic skills and I now had a partner!  We are such a great team!  She even made snowflakes with the sitter while I was at work on Saturday.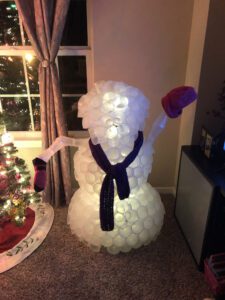 On Saturday night, we put on a holiday movie and had Pinterest success with a DYI Snowman out of plastic cups.  Yup!  We did it!  She held the cups, I stapled and we made Mr. Snowman come to fruition.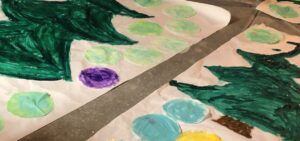 On Sunday, Emily and I got to work.  We painted 5 pine trees on white paper and then made a bunch of ball type ornaments out of coffee filters, paint and glitter glue.  We sang and danced to Christmas music while we worked.  Wonderful little elves we were!
On Monday, back to work at the school… I brought in all of the things Emily and I made.  I had so much to do.  I needed to adjust the twinkle lights – which took F-O-R-E-V-E-R!  (That was a HUGE learning!)   The art teacher helped a bit, I got the trees up and started to put the ball artwork up.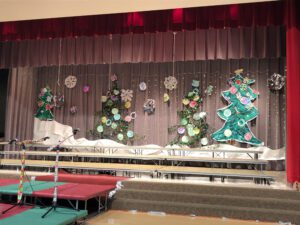 My final day of set work, Tuesday.  The class aide, the art teacher and another mom helped out in the morning.  We totally ROCKED IT!  I'm so proud of us!  We got the kids artwork up, which were these awesome bugs made in art class.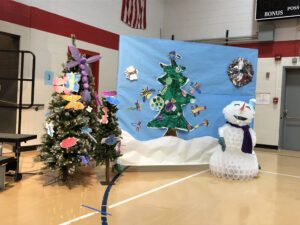 They made wonderful ornaments on the trees.  We started to get donations of trees and we got those up too.  I wrapped up the day with creating a couple snow hills and we were ready for the concert!
Since then, I have done 3 more concerts and a Kinderbration set for that same Music Teacher.  I got really good at making the sets!   My kids have now moved on to an Upper Elementary School and I'm trying some new things out with their sports.

I miss the creativity of the set building.  I didn't realize how much fun I would have. I'm really proud of myself for contributing to the magic of youth and their music.
Remember, there is a time to volunteer and step forward  as well as times to say "now is not the time," or "not my skill set."  I could do it that first time… and I enjoyed it so much I did it again.  No one is saying to go out and build a stage set… Every little action matters.
How do you add something, even the littlest give of time, extra attention or kindness to the behind the scenes of your child's everyday?  Think about it.  Give your idea a try and do the fun things twice… That's my motto!