Embrace YOU!  Infertility Self-Guided Course
For me, Infertility Awareness goes well beyond April.  We have to keep the conversation going.   I'm drawn to continue to make quality content accessible for those who may not need counseling though certain can benefit from learning about the psycho social impact of fertility concerns.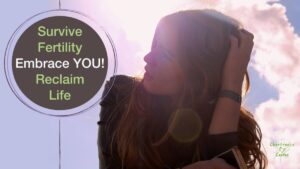 New to Fertility Concerns – Check out the complimentary course call Exploring Fertility.  The course offers three lessons to learn the prevalence of fertility concerns, an introduction to grief aspects of infertility and the general psycho-social impact. 
Specific Focus Area of Living with Fertility Concerns – Explore the courses and identify what may be a fit for you: relationship help, coping with your social circles, realistic self care, positive mindset shift, intense emotions… each course is created with effective tools taught in Chartreuse Center groups and workshops.
​Living with Fertility Concerns – If you've lived with fertility concerns for a while and are now experiencing the impact in various areas of life, you may be best matched with the Embrace YOU! Program.  It offers 5 courses and it's full of self-help tools that are realistic and easy to implement in your life. 
Resources for Doctors and Professionals – Professionals may pass on the savings to clients. The Embrace YOU! Office Program is available for you to offer to your clients at a discounted rate when you purchase for your office.  You keep your clients together in one course platform, portions of the platform can be customized for your office, there are aspects to monitor progress if you like and you may email your participants for any upcoming events or news you'd like to share through the platform.
There is so much benefit to going into fertility treatment having knowledge of beyond the medical tests and procedures.  Complete an online request and I'm happy to answer questions for you.