Jolly Ol' St. Nicholas and Infertility… What's the connection?
written by:  Julie Blackburn
We know Dasher and Dancer and Prancer and Vixen, Comet and Cupid and Donner and Blitzen… Do you recall, the most famous infertile couple of all?
A couple years back, I sat down to wrap presents and have random Christmas movies on in the back ground.  One story caught my attention – the cartoon movie Klaus.  It's a cute movie about a son of a wealthy family that is challenged to be a postman for a far-away town in order to continue to live his lavish lifestyle.  Typical holiday story, right?  What happens midway through the movie is what stopped me in my wrapping and instantly brought tears to my eyes…
In his quest to pursuade Klaus to continue making toys to meet his own goals, the postman reveals a beautiful hand carved family tree.  It has a man and woman at the top and many empty nooks.  When Klaus sees his creation revealed, he is overcome with explosive emotion.  I sat and watched, still with surprise.
Eventually, Klaus speaks to the postman and shares his story of infertility.  He and his wife had moved to their home with the wish to have many children.  He began to make toys for them as they waited and waited… The children never came.  I began to cry.  I continued to listen as I just let the tears flow.
Eventually, his wife fell ill and she died.  Klaus stopped making toys at that time.  In the movie, Klaus found that delivering the toys to the children gave his toys purpose.  He returned to toy making because this purpose became larger than him and was still a part of his story of infertility.
I don't know why it took so long for me to come to this realization.  I've had a relationship with Santa and Mrs. Claus ever since I could remember.  How come I never made this connection?  I started looking in past movies and stories for more evidence of this.  Time and time again, there is reference to Santa and Mrs. Claus never having children.  In the 1985 film Santa Claus, the Movie, the requirements to become Santa is clearly outlined to have not had children.  Amazing! Go ahead, look for yourself.
Other stories may have the role of Santa be passed onto an orphan, like in Santa's Apprentice. It wasn't until the Tim Allen played Santa in The Santa Clause movies, that Santa actually had a child.  Interesting!
I cannot believe it took me this long to make the Santa and Mrs. Claus connection to infertility.  It has completely changed my view of the holiday season.  We don't know Mrs. Claus' perspective of infertility because we witness Santa's experience… a man's view of living child free, not by choice.  This power couple does teach us that there are ways to find purpose and meaning again in our lives.  Infertility is a long sorrow, it touches all sorts of life well beyond the child bearing years.  Our stories all have different endings.  We know how the story ended for the Claus'.   My story continued with adoption… no successful fertility treatments, no live births… but the best family I could imagine. How about you?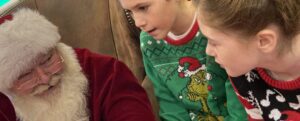 ---
Where are you in your story of infertility? Use various approaches of storytelling to deepen connection to Your Story of Infertility.   I invite you to learn more at https://chartreuse-center.teachable.com/p/story-of-infertility.
Learn more about Julie Blackburn and Chartreuse Center, specialized services for grief, infertility and parenting at https://ChartreuseCenter.com.