No matter how much you read or watched videos or thought you were prepared… there is nothing like having a new little person in your home. It's been a roller coaster… learning about the pregnancy, body changes, discomfort, people touching you, other's thoughts about your pregnancy, and then the delivery. Now that baby is home, it's time to get to know each other. This is an important time for everyone in the family.
Everyone has their story.  I didn't go through pregnancy and all those "normal" ways of becoming Mom… I created my family through foster care and adoption.  I experienced going from longing for little ones to instant family with a phone call.  It was a whirlwind of excitement and uncertainty.  I was a safe-haven and yet new to the job, a dream job of being MOM…  I also experienced the transient reality of being Mom for a few days, weeks and eventually forever…
I imagined quiet moments with baby, snuggles from a son, hugs from a daughter, dancing in the living room…lots of warmth in my heart… you know, those mental images that have an angelic glow.
Sure there were some of those dreamy moments…However, the reality was lots of laundry, babies with reflux, baby's bewitching hour, diapers, diapers and more diapers.  Who knew how much stuff you would need to pack in the car for one little person? I didn't know the true value of a full night's sleep until becoming a parent.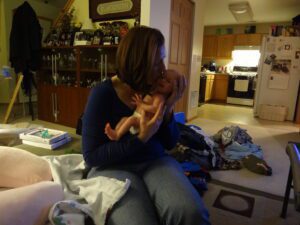 There is no shame in recognizing that being a New Parent isn't all the it's made out to be… The point is… the tough parts of parenting is the best kept secret by anyone that has done it… if we only knew… I remember the tired days, the late night feedings, the feeling I'd never catch up and wondering if I was doing it all right. When we have support with the tough parts, then we can enjoy those dreamy moments for which we have waited.  It's important to reach out.  No one said you had to do this alone.
It's important to know, Perinatal Mood and Anxiety issues can arise anytime.  It seems more expected for those new parents that experience pregnancy through the first year of caring for your new baby. PMADs can also occur for new parents through foster care and adoption.  I can attest to that!  I remember my aunt handing me an article about the tough parts of transitioning into parenthood… it was like she was reading my mind.  Perhaps, she experienced it too.
---
Registration is open for The New Parent Check-In.   This group will help you navigate changes that come with your new parent role and meet with others that are like you. There is a lot of adjustment to be done in the first few months, let alone that first year. This time can bring forth all sorts of feelings. Groups are safe places to bring up these issues. This is a judgement free zone. You are encouraged to come as you are… the goal is to get your day started with support and encouragement. This program will also monitor for any PMAD concerns to bring to your doctor.
Click here to learn more: https://chartreuse-center.teachable.com/p/new-parent-morning-check-in
Visit www.ChartreuseCenter.com to learn more about specialized services and online programs for grief, infertility and new parenting.