It's been quite some time since some new programs have been introduced.  I'm very excited to be offering something completely different.
The new programs remain committed to the mission of Chartreuse Center to lift barriers to quality support information and services for bereavement, infertility and new parenting.  The new programs meet this by being offered online with live virtual meetings as well as priced accordingly.
The programs also offer a twist from traditional support groups.  These groups will offer handouts to help with their specific issues.  The difference is that there will be a very specific group of tasks to process their concern through grief, art and narrative therapy techniques.  The group will conclude with mindfulness, meditation or EFT tapping.  Here are the new programs that follow this structure: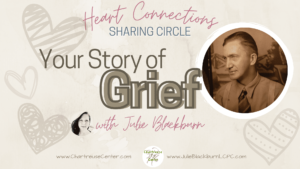 The Story of Grief – 10 Weeks of interactive story processing with 2-3 prompt option choices each week.
The Story of Infertility – This is far different than typical Infertility Peer Support Groups.10 Weeks of deepening awareness to the family building journey and who they have become. Separate groups for Primary and Secondary Infertility
The Story of Pregnancy Loss – 10 Weeks of sharing the life and loss of their baby. Separate groups for Miscarriage and Still Birth Losses.
A final group that is offered is for the transition into parenting.  This group is to help reduce the isolation that new parents experience and monitor for Perinatal Mood and Anxiety Disorders (PMAD) or issues as folks become more comfortable and confident in their new roles.
New Parenting Morning Check-In – It is just that – a twice a week morning check-in for an hour over 10 weeks.  It's a come as you are, judgement free zone where fussy babies and tired parents are welcome.
Everyone's story is unique to them. I have enjoyed leading groups in the past and I am so honored to be offering them again. Registration is currently open. All these groups can be found at https://chartreuse-center.teachable.com.
Please forward this post or message to anyone that may benefit from these groups.  My goal is to extend the reach to those that have some barrier have it be balancing work and medical treatment, being homebound, or simply don't have this type of resource in their area.  I look forward to an amazing start to these programs.